OPEN TRANSPORT TROLLEY WITH SLIDES
Designed for the storage and transportation of sterilisation baskets.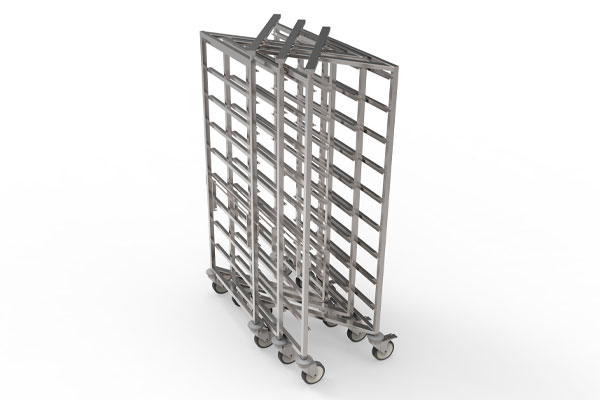 The trolleys are completely made of AISI 304 and are made of s/s u-profiles or L-profiles.
U-profiles are suitable to store baskets with flanged top wires. The u-profiles have a high side in order to prevent baskets from falling during transport. 
L-profiles are suitable to transport containers or baskets without flanged top wires. The trolley can be equipped with one single compartment or with two or more compartments. The number of compartments also depends on whether the baskets are being loaded from one of the shorter sides or one of the longer sides of the trolley.
The trolleys are standard equipped with four Ø 100 mm swivel castors of which two are equipped with a brake. Above the castors bumpers have been placed to protect not only the trolley but the walls as well.Furthermore, the trolley can be equipped with push handles on one side or both sides of the trolley.
​As an option, the trolley can be equipped with a fixed closed bottom plate or/and a fixed stainless steel top cover, which prevents dust from getting into the baskets.
Famos has also designed Z-trolleys which is the ideal solution when space is very limited. The Z-trolleys are also equipped with slides to store sterilization baskets. The special feature of these trolleys is that they can be nestled inside one another when empty to take up as little space as possible. They consist of one compartment. The quantity and dimensions of baskets that fit into the trolley depend upon customer specific requirements and as an option the Z-trolleys can be equipped with a coupling hook to combine two trolleys together.