Simple design, light weight and durable.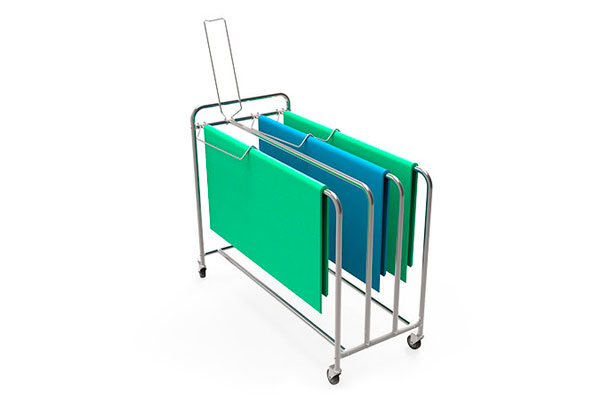 Paper stands and trolleys are widely used for storage of sterilization wrapping papers.
The Famos paper trolleys have been designed to store wrapping paper clearly and to have them within hand reach whenever they are required. The trolleys are made of AISI 304 stainless steel which ensures a life time use without any problems.
The paper trolley 50.101.082 is a paper stand on four swivel castors made of stainless steel round tubes. It has four frames on which up to four different dimensions of materialof paper can be hung. The paper trolley is equipped with four anti-static Ø 75 mm swivel castors of which two have a brake. Just above the swivel castors four wall protectors are mounted which prevent the trolley from colliding against the wall.
The paper trolley 50.101.082 will be supplied unassembled.
Other paper trolleys are available upon request. The standard paper trolley 50.101.082 can be completed with optional accessories like a solid bottom shelf or bottom grid and/or paper clamps. The paper clamps prevent paper from gliding away. Due to the fact that the Famos paper trolley is of a modular design, the optional accessories can be added later on.
| CODE | DESCRIPTION | DIMENSIONS IN MM | PACKED |
| --- | --- | --- | --- |
| | Paper trolley with four frames | | |
| | | | |
| | | | |
| | | | |