TRANSPORT TROLLEY - WITH ELECTRICAL HEIGHT ADJUSTMENT
Trolleys designed for ease of loading and unloading with the capability of under-going sterilisation.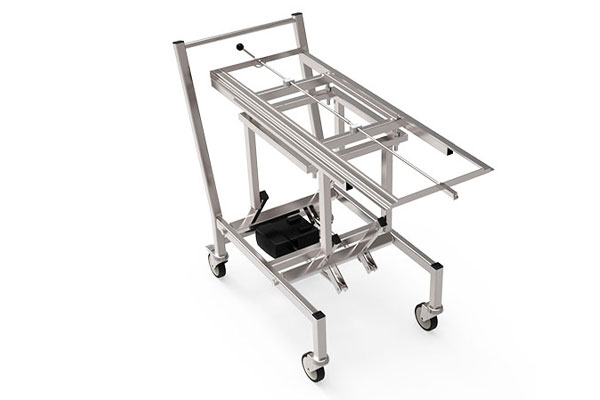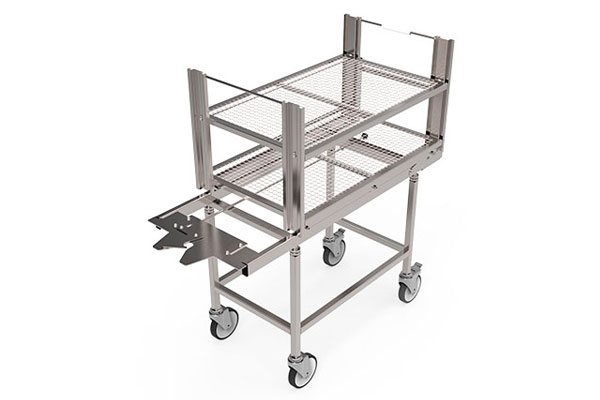 The trolleys are made of AISI 304 stainless steel and can be electrically adjusted to every sterilizer.
The trolley is constructed of a high quality stainless steel frame that ensures a lifetime workability without having any worries.
The height adjustment can be done by two push buttons which are connected through a flexible curled wire. The rechargeable battery has to be charged once or twice a week in case of intensive use and is easily done by the supplied adapter that is plugged in. When the battery is charged frequently and the users prevent that it is getting completely empty, the lifetime of the battery will be around 7-10 years.
The trolleys are equipped with Ø 125 mm swivel castors  for easy transport, two of which have a brake to prevent the trolley from gliding away and are equipped with a push handle for easy manoeuvering.
The Famos height adjustable transport trolleys  are completely being manufactured upon client-specific requirements in order to adapt the trolley to any brand of sterilizer.
Apart from height adjustable trolleys Famos can also manufacture fixed height transport trolleys in case required.